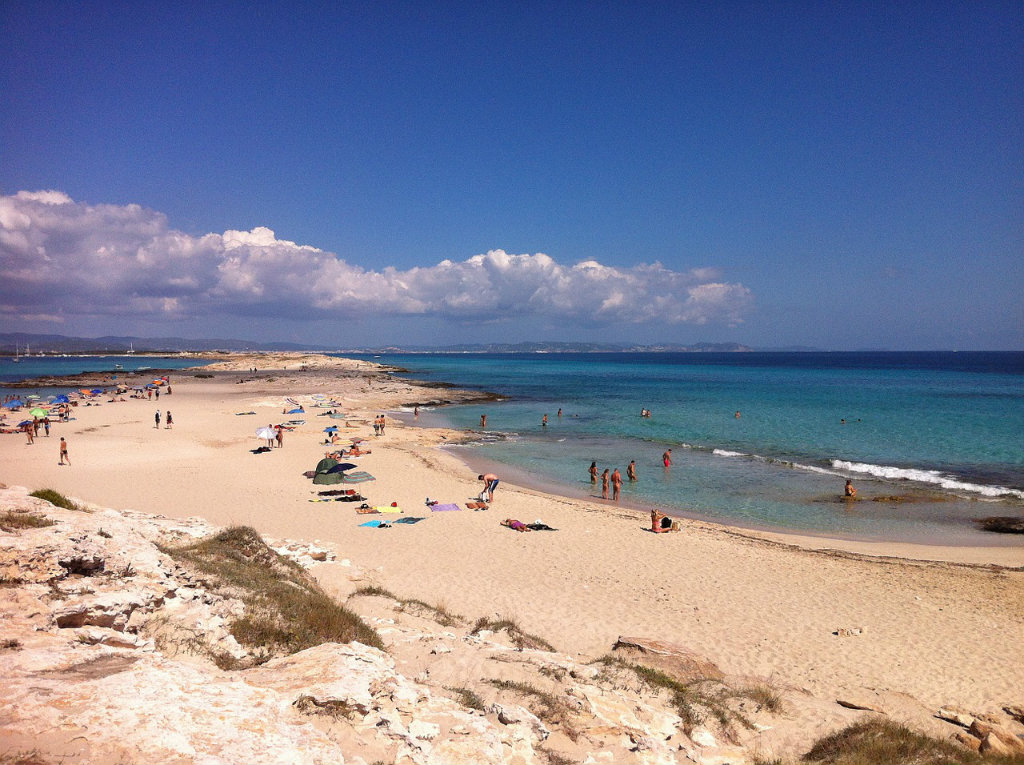 Ibiza to Formentera is hands down our most popular yacht charter route, year after year. This small, but beautifully formed island boasts some of the world's prettiest beaches.
Fact!
So after receiving your many questions, including:
"What is Formentera like?"

"Which beaches can we visit?"

"What's the weather like?"

"Where can we go for lunch?"

"What are the best things to see & do?"
The Boats Ibiza bloggers (we've been once or twice…) huddled together, pooled our knowledge and produced this condensed guide for you!
So whether you're visiting Formentera on a luxury Ibiza yacht charter or nipping over on the ferry…
Here's everything you could possibly want to know about this breathtakingly beautiful little island 🙂
Weather in Formentera
As the southernmost island of the archipelago, Formentera enjoys the mildest climate of all the Balearic Islands.
Not surprisingly, the hottest season on Formentera is summer.
From June to mid-September, the days are hot and sunny with very little rainfall. But even though the highs can sometimes reach 35C in July and August, a nice constant sea breeze (especially if you're out on a boat) keeps the air feeling fresh.
Autumn generally starts off pleasantly warm with plenty of sunshine during the day. You can expect a few days of rain throughout September and October. By the time November rolls around, the temperatures are starting to drop. That said, persistent sunshine & temperatures hovering around the 20C mark still make for a glorious day.
Chart generated by Google search
Winter in Formentera is a real mish-mash of weather conditions. Bright, sunny days alternate with rainy periods and strong winds. As soon as the sun sets, the temperature drops dramatically bringing in cold nights as low as 3C. December through to February sees even residents snuggled up in front of a roaring fire.
Spring is generally quite mild but it can be a little unpredictable, especially during March and early April. We're talking occasional rainy days with wind and chilly nights. Warm sunshine becomes the norm from mid-April / May and temperatures start to rise towards the 20C mark again.
Yay!
Formentera's sea
Formentera's sea is, quite frankly, unrivalled when it comes to clear, transparent, sparklingly turquoise waters.
This is thanks to the presence of the largest area of Posidonia Oceanica in the Mediterranean Sea.
At 100,000 years of age, this incredible seagrass is the oldest living being in the entire world and was declared a UNESCO World Heritage site in 1999.
Acting as a natural purifier, the Posidonia produces large amounts of oxygen that are key to the survival of algae, sponges and fish. At the same time, it allows the finest sand through, which purifies the water by retaining the sediment.
As such, and quite rightly, strict regulations are in place for anchoring yachts and boats in order to prevent deterioration of this hugely important resource.
The exceptional diversity of marine life in the warm and clear waters of Formentera make it the perfect environment for snorkeling and diving.
In fact, if you're a fan of any kind of watersports, Formentera will be your idea of heaven. There is a huge variety of activities to choose from. Windsurfing, kite-surfing, water-skiing and kayaking being amongst the most popular.
Check out our watersports page for even more fun in the sea information.
Ps: If you're on a boat, ask your captain about the hidden cave dive (not for the faint hearted).
Getting around
Having no airport, Formentera can only be reached by boat from Ibiza.
And… (our moment of glory)
We can help with that! 😉
There is nothing quite like hiring a boat for the day with your favs & sailing off from Ibiza to Formentera, listening to cool tunes & having an absolute ball. From €120 per head when the price is split between the group, it's totally affordable too.
That's not to say you can't splash out a bit more & hire a Sunseeker yacht!
Check out our top 12 boat deals (ps: they all include a free bar).
But if you're on tight budget…
There is a very regular ferry service from the Port of Ibiza Town and during the summer seasons, crossings are every 30 minutes.
Ferry operators of particular note are Balearia, Trasmapi and Mediterraneapitiusa. Local Ibiza family-run company Aquabus Ferry Boats also run a regular, year-round Ibiza to Formentera service.
Once there, you'll find several options for getting around. In La Savina Port there are lots of transport rental companies. Cycling is particularly popular on Formentera due to the island being almost entirely flat. But you can also hire cars, motorbikes, quads and electric vehicles.
Another option is to join an excursion. There is a tourist bus service that will take you around to all the best spots with three routes to choose from. Hassle-free and relaxing. Just the way we like it!
A cheaper alternative would be to hop on a public bus. They go to many of the same beaches as the tourist bus but the stops are at a further distance so you'd have a bit of walking to do once you disembark to get to the actual beach.
Formentera villages & places of note
San Fernando
San Fernando, or to give it its official name, Sant Ferran de ses Roques, is the most centrally located of Formentera's villages and a great base from which to explore the island.
Here you will find a sleepy, laid-back, hippy kind of atmosphere and yet the village is still very functional with banks, a post office, Internet cafe and a wide variety of bars and restaurants. These include the legendary hippy hang-out, La Fonda Pepe bar where Bob Dylan is said to have spent many an hour.
San Francisco
Formentera's capital and centre of administration, San Francisco, is the largest village on Formentera.
Sant Francesc Xavier is located about 3 km from La Savina Port. In the centre stands the village's fortified church. Whilst originally a 'castle' built in the 10th century, the original building was destroyed. Rebuilt during the 18th century, the church served as a fortress against pirate raids (oo aar) where the inhabitants took cover within those 2-metre thick walls.
Formentera's Town Hall is located in the village's main square and it is here that many of the island's festivals and important events are celebrated. Lined with cafes, shops and bars, San Francisco has a lovely bustling atmosphere.
Es Caló
This is a charming little fishing village situated on the south-east tip of Formentera facing northwards.
Nestled at the foot of El Pilar de la Mola, Es Caló has a beautiful, horse-shoe shaped bay dotted with traditional, rustic fishermen's boathouses.
There are just a few shops and restaurants here, including a harbour-side restaurant boasting incredible views of the sea and from where spectacular sunsets can be enjoyed.
El Pilar de la Mola
The village of El Pilar de la Mola is situated at the highest geographical point of Formentera.
Whilst it is one of the island's quietest spots with very few shops and restaurants, its main attractions are the cliff-edge lighthouse and, from this higher vantage point, the most spectacular, breathtaking views of Formentera you could ever imagine.
La Savina
La Savina is Formentera's working port and the very gateway to the island.
Ever popular with the yacht squad, La Savina boasts an exclusive nautical atmosphere which still manages to maintain the unique character of a local fishing port.
Here you will find many traditional cafes, bars and restaurants, along with market stalls selling all manner of hand-made artifacts.
Best places to go for lunch on Formentera
For such a tiny island, Formentera boasts many top-notch bars, cafes and restaurants.
One thing is for sure, when it comes to gastronomy on Formentera, you won't be stuck for choice.
The following are our best suggestions for an unforgettable Formentera lunch.
Juan y Andrea
Established in 1971, Juan y Andrea is something of an institution and a firm favourite amongst the yacht-set.
Which is hardly surprising considering there is zodiac service to transport guests direct from yacht to restaurant!
Located on Playa Illetas, Juan y Andrea serves high-quality Mediterranean cuisine and seafood whilst boasting the most incredible panoramic views of the entire Illetas beach area.
It's the ultimate dine-with-your-toes-in-the-sand experience. And popular with celebs & royalty, it's not bargain basement, ladies & gents.
But as long as you have plenty of euros in your wallet, Juan y Andrea is the place to be seen.
Beso Beach
Boho-chic Beso Beach can be found in the Parque Natural de Ses Salines.
Here, you can enjoy an interesting fusion of Mediterranean and Basque cuisine while taking in the stunning views of Playa Illetas.
With a palm-thatched roof, sandy floor and weathered feel, Beso Beach has a charming rustic atmosphere and a lovely laid-back vibe.
Restaurante Es Calo
Famed for its fresh seafood and uninterrupted views of sparkling, turquoise sea, Es Calo is the place to go for innovative Mediterranean food.
Fresh fish, seafood, meat and veggies here provide an "opera of flavours, aromas, textures and sensations."
Es Calo actually received a special mention in the 2017 Michelin guide for their gourmet take on traditional local cuisine.
Take a peek at Boats Ibiza's very own review of this excellent restaurant for more of a low-down.
Can Dani
Open all year, Can Dani was previously a Michelin-starred restaurant which still retained a special place in the 2017 guide.
Elegant yet unassuming, Can Dani takes traditional dishes from locally-sourced products and combines them with contemporary, modern twists. There is no menu as such; the restaurant's kitchen is based on three different tasting menus of original and delectable cuisine.
For sure, an unforgettable high-end dining experience.
Formentera Beaches
Formentera is an island of almost indescribably beautiful beaches and bays.
Here are just a few examples of the gems you can enjoy underneath that glorious Mediterranean sun.
Playa Ses Illetes
Just 5km from the port of La Savina, Ses Illetes is easily reached by bike, scooter or car.
Named Europe's best beach by users of TripAdvisor in 2016, and ranked number six in the world's top ten beaches, Ses Illetes is often compared to the Caribbean.
And with good reason.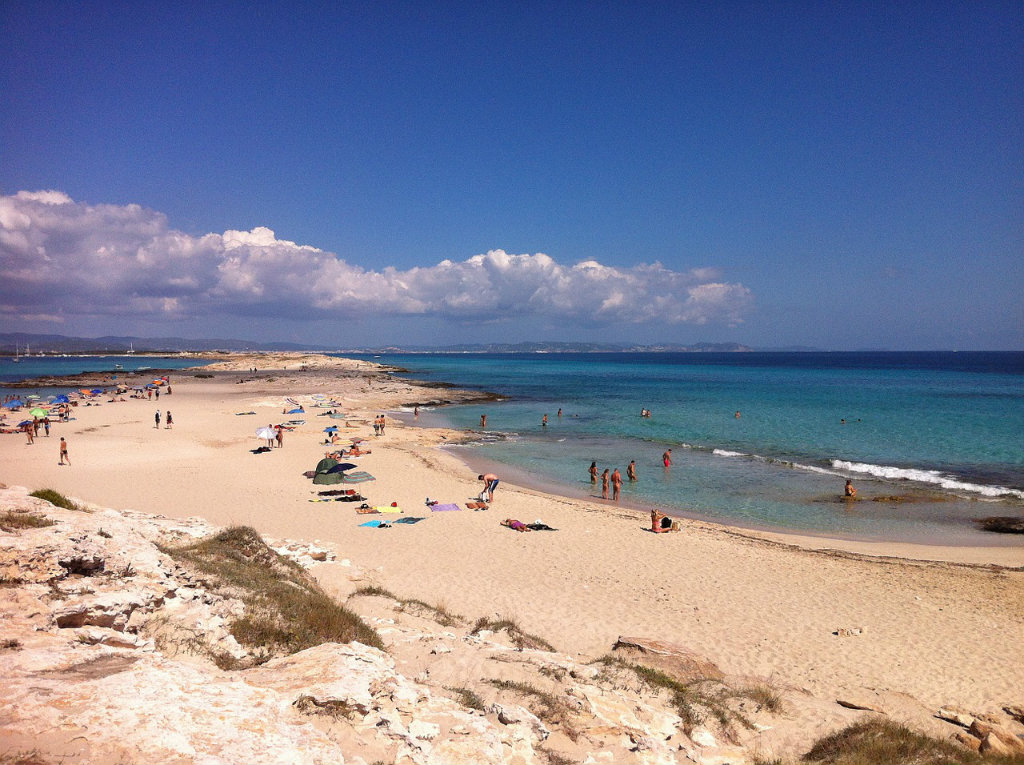 Think soft, pale sand, sparkling sea, picturesque sand dunes and you're getting the picture.
Of Formentera's beaches, Ses Illetes is one of the most popular and has a tendency to attract the global glitterati. Head over there if you fancy a bit of VIP hobnobbing 😉
Playa Illetes is also, of course, the home of Juan y Andrea & without a doubt our top pick for a gorgeous Paella lunch.
Playa de Levante
A true "get away from it all" beach, Playa de Levante is a long, broad sandy beach with amazing views across the water to Ibiza.
This beach is much less busy in summer than Ses Illetes as, being situated on the eastern side of the narrow peninsula, it tends to get the full force of any strong winds.
Needless to say this makes it the number one Formentera beach for surfers.
With quiet bays, small rocky areas and a backdrop of sand dunes, Playa de Levante is also a popular choice for nudists.
Cala Saona
Cala Saona is a small, picturesque cove, backed by red rocks dotted by rustic fishermen's huts.
The small rocky inlets around Cala Saona offer plenty of spots for peace and privacy. The clear waters are idyllic for bathing and for snorkelling.
Again, magnificent views of Ibiza can be had from here and, with its westerly position, Cala Saona is the best place to watch a beautiful sunset on Formentera.
Playa Es Pujols
This is Formentera's only tourist resort and the island's liveliest village.
A pretty promenade overlooks the broad, sandy beach which is backed by sand dunes with a splattering of small, rocky islets offshore. Fishermen's huts at either end ensure that Playa Es Pujols retains its original, rustic charm.
A wide range of cuisine can be enjoyed in the many restaurants here. There are shops aplenty and even a hippy market on the Main Street.
Playa Es Pujols is a great choice for lovers of water-sports with a whole host of activities on offer.
Playa Migjorn
Situated on the south coast of the island, Playa Migjorn is Formentera's longest beach.
Half-moon shaped and with pretty, little coves, scattered rocks and soft white sand, Playa Migjorn is popular with holidaymakers and locals alike.
There are many restaurants and some charming rustic beach bars to be found here, serving up a whole array of wonderful food.
Playa Migjorn has a very relaxed, hippy and cosmopolitan vibe where nude sunbathing is commonplace.
Playa es Arenals
Just to the south-eastern end of Playa Migjorn, Playa es Arenals is a good choice for families as there is a large variety of facilities around here.
Wooden walkways provide handy access for pushchairs and those with limited mobility and the seabed is lovely and smooth with no sharp rocks. Ideal for safe bathing and playing for the kiddies.
Another good beach for lovers of water-sports, Playa es Arenals boasts its own diving and windsurfing school, which was the first of its kind on the Balearic Islands, don't you know?
Espalmador
Espalmador is a privately-owned island which was recently bought by a family from Luxembourg after over three years on the market.
Truly a slice of paradise on earth, this tiny islet is located off the north coast of Formentera and can be reached only by boat.
Famed for its soft white, pristine beaches, picturesque coves and crystalline turquoise waters, Espalmador is a veritably unspoiled environment. Believe it or not, there are no buildings whatsoever on the island except a house, a chapel and a watchtower.
No bars.
No shops.
No restaurants.
Photo courtesy of TripAdvisor – Espalmador
Take your own refreshments, folks, 'cos ain't nothing going on here but out and out natural beauty!
Right in the middle of Espalmador are natural mud flats which, being part of the Ses Salines natural park, are specially protected by strict environmental laws. Whilst mud-bathing here is, in fact, not permitted, this doesn't seem to be effectively enforced. Local newspaper, Diario de Ibiza, reports that even though it is not allowed, up to 300 visitors still make use of the mud baths per year.
A popular mooring place for yachts, Espalmador is a firm favourite amongst celebrities, A-listers and royalty. But if you are yacht-less, fear not! There is a ferry service from the port of La Savina so you can still hob-nob it in style.
History of Formentera
For such a small island, Formentera certainly has a long and chequered history.
Megalithic graves provide evidence that Formentera was inhabited in prehistoric times, going back as far as 2000 BC. Archaeological sites from that time still remain with the most famous one being at Ca na Costa on the outskirts of Es Pujols. Dating from the Early Bronze Age, this is the oldest tomb in the Balearic Islands consisting of a circular chamber surrounded by two concentric circles of paving stones arranged in amazing geometry.
Around 200BC, the Romans arrived on Formentera and used the land mainly for growing wheat. They named the island after the Latin name for wheat – Frumentaria.
After the collapse of the Roman Empire in the 5th century AD, Formentera was conquered by the Vandals, then by the Byzantines.
The Arabs, or Moors, arrived in 711 AD, bringing with them an advanced knowledge of agriculture and irrigation systems, some of which are still used by farmers today.
The majority of the Moorish population was exterminated when the Catalans arrived in 1235 and conquered the island. Formentera was thus added to the Crown of Aragon and later became part of the medieval Kingdom of Mallorca.
But from 1403 until the late 17th century, persistent pirate attacks and bad harvests rendered Formentera uninhabitable and the abandoned island became a base for the Barbary and Turkish pirates.
In 1697, Carlos of Spain decided to re-settle the island, instructing defence towers to be built, the remains of which can still be seen today. During this time, Formentera's main industries were the farming of dry fruit trees like olives, almonds and figs and, of course, salt.
This remained the case until the unspoiled nature of the island attracted an influx of hippies which ultimately led to the island's tourism boom in the 1950s.
A boom that continues, and grows, to this day!
And there we have it ladies & gents. Our 2022 guide to Formentera, in a nutshell.
No matter how many times we visit 'Ibiza's little sister,' we never get tired of just how awesomely beautiful she is.
Did we miss anything out?
Let us know in the comments below. We'd love to hear about your Formentera tips and tricks!
Words | Jinny Throup  Images | Various – reproduced with kind permission
---
Keep checking our blog for what's hot in Ibiza throughout the 2023 season, or follow us on Facebook, Instagram, LinkedIn or Twitter to be the first to hear about special Boats Ibiza deals and discounts!