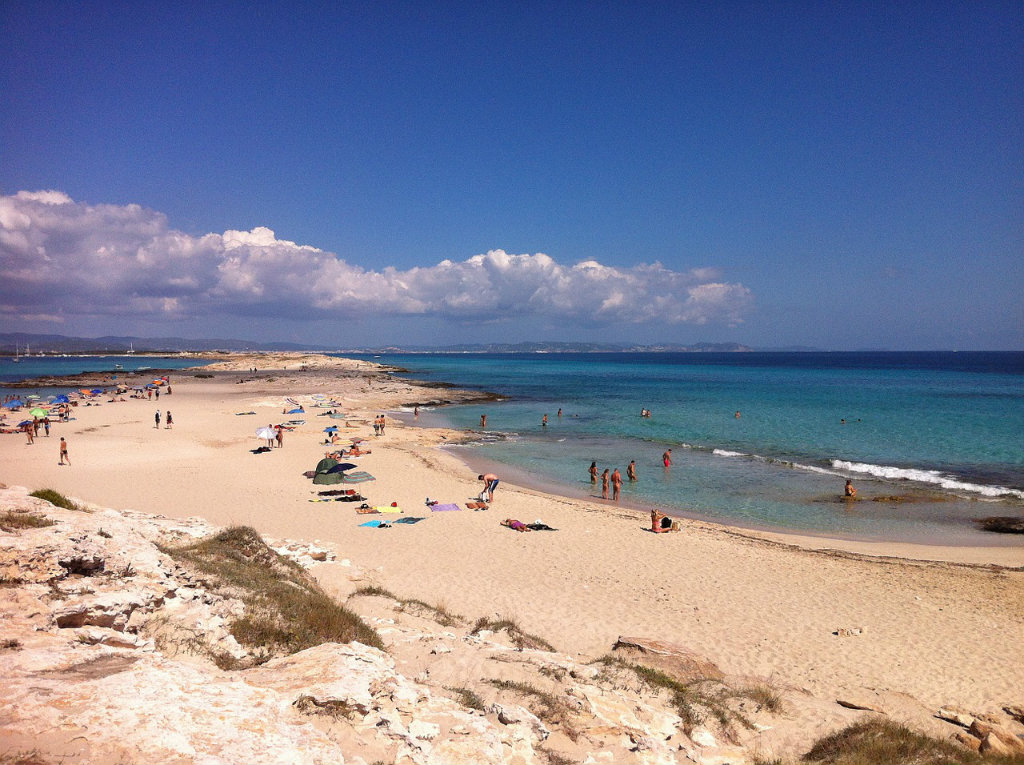 Formentera Ibiza or both? That is the question for many visitors that flock to the Balearics each year in search of fun, sun and good times. Ibiza & Formentera are so close together (just 6 nautical miles apart) that it's almost criminal to visit one and not at least explore the other a little. In this blog post, we'll take a good look at these two beautiful sister islands, reveal the differences between them & the unique qualities that make them so attractive for almost entirely opposite reasons.
Ibiza | the best parties in the world – day & night
You'd have had to be living in a cave on Mars for the past 40 years to not have heard about the legendary Ibiza party scene. In Ibiza, you can dance from morning through to…well, the next morning (ad infinitum). Daytime dancing is to be found in any one of a dazzling array of funky beach bars. From Playa d'en Bossa, home of Ushuaïa, Bora Bora, The Beach House, Tanit Beach, Nassau & more, to Blue Marlin on the south coast, Ocean Beach & Cafe Mambo in San Antonio, Jockey Club and Sa Trinxa in Las Salinas, Ibiza is non-stop party heaven.
Come night time and the choices become even more huge. World class DJs (too numerous to mention) are everywhere and sometimes it can be a momentous task simply deciding which thronging dancefloor to choose from (we recommend researching this well in advance, Ibiza Spotlight are the Ibiza clubbing gurus).
The major clubs: Amnesia, Privilege, Pacha, DC10, Sankeys, Hï, Es Paradis & Eden offer a dazzling array of parties. Every genre of dance music is covered, from techno, to house in all its forms, drum n bass, breakbeats, electro, hip-hop & RnB… you get the idea.
But when the party is over and you stop to breathe, guess what?
Formentera | the best rest & recuperation in the world
By absolute and utter contrast, Formentera is about as laid back as it's possible to be. This tiny, paradise island never seems to move out of 2nd gear (maximum) even during the busy summer months of July and August. The beaches and hotels may be full, but there is still a quiet air everywhere.
The motto? Eat, swim, sleep, repeat. Breathe. That is all.
Looking more like the Maldives than the Med, the beaches in Formentera are absolutely stunning and in a nod to its hippie history, most of them are 100% ok with nudist sunbathing. Hippies flocked to Formentera in the 1960's, where for a while, it was perhaps the coolest place on the planet for those in the know. Bob Dylan was one esteemed ex-resident and Joni Mitchell is said to have written her masterpiece of an album Blue on the island. Jimi Hendrix laid his guitar-god feet on those sandy shores & Bob Marley and the Wailers rocked up a little later to chill and presumably smoke a few fat ones.
That's the cool-o-metre already practically busting the mercury, dear reader.
With more recent high profile visitors including Leonardo Dicaprio, numerous royal families, countless supermodels, famous footballers & more billionaires than you can shake a Rolex at, if it's their top choice of chill, then hey…
Ibiza | easy to get to
Ibiza is a lot easier to get to mind, both by air & by boat from mainland Spain & Mallorca. Unless, of course, you arrive on your own superyacht (ahem). In practice though, most mere mortals arrive by air to Ibiza's ever-expanding airport. Nearly all European airlines fly direct to Ibiza and you can take your pick from the higher end options such as British Airways and the like, or a whole raft of cheaper options such as Ryanair, where flights to and from the UK can be found for a little as a fiver.
Once installed in Ibiza, then Formentera can be reached easily by boat.
Formentera | only accessible by boat
Formentera has no airport of its own, so it can only be reached by boat, from either the Spanish mainland or from Ibiza. There are lots of choices on how to make the half-hour trip that separates these two beautiful Balearic islands. You can either hop on one of the larger ferries with Balearia or Trasmapi for about €20 each way, or hop onto one of the smaller, cheaper ferries run by Aquabus, a local, Ibicenco company, and save a few quid. Ferries run from Ibiza Town on the east coast of the White Isle.
Saying that, Formentera is not really the place to be scrimping, ladies and gents and bargain basement it most certainly is not. We recommend booking a private water taxi with any good boat rental company, (such as our good selves) or go the whole hog and rent a boat for the day. If your group is 6 or more and you all club together, you'd be surprised just how affordable this can be – from around €80 per person in low season and that includes drinks.
You can choose a nifty speedboat or a larger motor cruiser. Check out our range of Sunseekers, and if you want to get down with the celebs, our 60ft Sunseeker Predator is the absolute boss.
If you've never chartered a boat before and you want the complete low-down, check out our definitive guide to renting a boat or yacht in Ibiza right here.
Ibiza | a week to explore properly
Ibiza is glitzy, famous and full of pizzazz & whilst not a huge island, is about 60 kilometres long from north to south and around 30km wide. She boasts over 60 beautiful coves and beaches and her gorgeous mountains are liberally fringed with gorgeous emerald forests. With 3 major towns and plenty of small but perfectly formed villages, you'll need at least a week to have a good look around Ibiza.
Hell, it can take a week just to check out half of the clubs!
Saying that, if you just want to nail as many beaches as possible in one day, then it's gotta be boat or yacht rental. Jump on, crack out the cava and off you go. Beach hopping at it's finest.
Formentera | you can see it all in a day
At only 19 kilometres long, Formentera is very much the little sister island. But you know what they say, you don't get diamonds the size of bricks. The glorious fact is, it's totally doable to see Formentera in a day, either by land or by sea. If you choose the land route, then a popular option is to rent a motorbike or scooter or even a mountain bike for the day. Formentera is relatively flat, so biking around the island is a great way to nip around and see lots of the main attractions on a day trip.
The coolest way to see Formentera though is without a doubt by boat. Cruising around those crystal clear turquoise waters with your nearest and dearest onboard and a glass of something delicious and chilled in your hand is, well, pure heaven. Sailing from Ibiza to Formentera, passing by Espalmador and its famous mud baths, then on to cruise around the coast is really an unspeakably beautiful way to see the awesome beaches that Formentera is so famous for.
Playa Illetes, for example, is regularly lauded as one of the top beaches in the whole of Europe. It's here you'll find those crystalline waters glittering with yachts boasting various levels of splendor. Home of that most iconic of Formentera beach restaurants, Juan y Andrea, it's not unusual to see some of the world's most iconic and famous yachts anchored here. It's absolutely bursting with A-listers and gazillionaires. Playa Migjorn is more down to earth & where you'll find the most beach-bar action, whilst Cala Saona, on the other side of the island, is where to head for a jaw-droppingly beautiful sunset.
If you'd like a more detailed look at the different Formentera beaches, check out this article which lists them all. but now, back to our original question.
Formentera Ibiza… or both?
We hope after reading this article, we don't have to spell it out any further, m'hearties? It's gotta be both, of course. We urge you to go forth at once and explore!
---
Keep checking our blog for what's hot in Ibiza throughout the 2023 season, or follow us on Facebook, Instagram, LinkedIn or Twitter to be the first to hear about special Boats Ibiza deals and discounts!