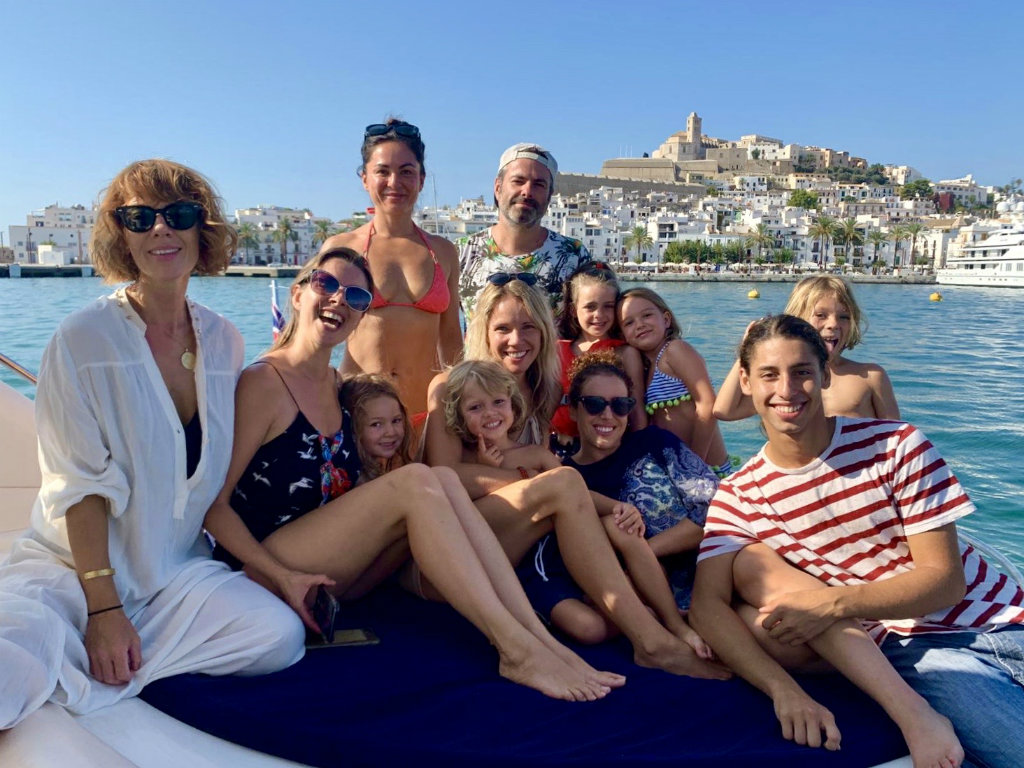 We've just been given the green light to open for business for this highly unusual 2020 Ibiza summer season, dear shipmates.
Rejoice!
We're so happy to be able to get back out to sea and spread our wings a bit. We KNOW you know what we mean. And whilst it could be a while before our international visitors can make it over, we know there are a whole heap of cooped up folk right here on the White Isle, right now.
We reckon a good healthy dose of fresh sea air and feeling the wild touch of the elements could be the ideal antidote to months of restrictions, albeit necessary ones, upon our freedoms.

Boat rental prices slashed for Ibiza residents
We know pretty much everyone's taken a financial hit because of the global lockdown. So we've done everything we can to reduce our prices for island residents & make a fabulous boat trip as affordable as possible.
For starters, we've gone ahead and chopped a big chunk off the usual price of our 49′ Sunseeker Portofino on last-minute bookings* for residents, throughout the entire month of June, 2020.
Here's what a day on the Portofino looks like.
You can check out more photos, info & specs by clicking right here.
How much?
Full day hire
Usual charter price with 1 hr fuel = €1630 + IVA
The cut-price residents deal for last-minute bookings for a full day in June is just €1200 + IVA, fully inclusive of fuel & drinks.
Morning or sunset hire
Usual charter price with 1 hr fuel = €822 + IVA
The cut-price residents deal for last-minute bookings for a morning or sunset in June is just €725 + IVA, fully inclusive of fuel & drinks.
At 75% capacity, the 49′ Sunseeker Portofino is currently allowed to take out 9 guests, plus Captain.
But wait!
Before you rush off to look at lovely pics of the boat, we'd really, really love you to take a minute to…
Nominate a neighbour for a FREE Ibiza sunset charter
We invite you to nominate a local Ibiza resident who you think deserves a lush Ibiza sunset charter.
Perhaps someone who has been super supportive throughout the lockdown. Or someone who has had a particularly hard time and could do with some good boaty cheer. Or an essential worker, who deserves a special treat. We want to hear your stories about the awesome folk here in our very own community.
At the end of June, we'll put all those nominations in a hat and pick a winner. That winner & 5  guests of their choice will be taken on a private sunset cruise on our 49′ Sunseeker Portofino sometime during September or October, completely free of charge. We'll even supply complimentary cava, wine, beer and soft drinks, oo aar!
A thousand tales of kindness
We believe that behind every crisis, there are a thousand tales of kindness and fortitude. And the act of nominating a friend or neighbour for a special gift is the kind of community-spirited gesture that has made Ibiza one of the safest places in the world to be right now. Looking out for each other has been one wonderful trend to have emerged from these worrying times.
And long may it continue.
We're proud of our community, for the long, patient wait at home and the innumerable acts of kindness we've heard about on the Ibiza grapevine.
So please, make your nominations! Who would you like us to gift a sunset charter to this season and why?
Here's how: 3 simple steps
1. Tag your Ibiza nominee(s) in the comments of whichever social media channel you found this post on (Facebook, Twitter, Instagram or LinkedIn). Or right here in the comments beneath this blog post, along with a couple of sentences explaining why you're nominating this person (or group of up to 4 people) for a super special treat.
2. Add the hashtag #ibizalockdownheroes at the end of your comment.
3. Now share the love (and the post!) to give others a chance to make their own nominations.
And boom, just like that, we show the world a different side of Ibiza. Kind deeds. Strong community spirit. Resilience. Whilst showing someone who deserves it a rockin' good time.
Terms & Conditions
You don't have to live in Ibiza to nominate someone, but the person who is nominated must be a fully documented, year-round Ibiza resident.

You can tag an individual, or a couple, or a group of people (up to 4 people maximum in any group nomination).

No members of Boats Ibiza staff or relatives of staff may nominate or be nominated.

The winner gets a complimentary sunset charter on one of our Sunseeker yachts. Complimentary drinks included.

The winner(s) can invite up to 5 extra guests of their choice.

Boats Ibiza management will pick a winner. Their decision is final and non-negotiable.

The prize is not transferable.

The charter must be taken on an agreed date during September or October 2020.

Dates subject to availability.

There is no cash alternative.

Usual Boats Ibiza terms and conditions apply.

Entry into this prize draw assumes acceptance of these terms.
* Last-minute bookings must be made no more than 48 hours before your charter.
---
Keep checking our blog for what's hot in Ibiza throughout the 2023 season, or follow us on Facebook, Instagram, LinkedIn or Twitter to be the first to hear about special Boats Ibiza deals and discounts!